'The Haunting of Bly Manor' touches on subjects completely different from 'The Haunting Of Hill House'. It is quite wrong to compare the two shows with each other, as 'The Haunting Of Bly Manor' focuses more on all the characters' relationships rather than their individual stories.
The show draws its inspiration from the 1898 gothic horror novella 'The Turn of the Screw' by Henry James. At its core, 'The Haunting Of Bly Manor' is essentially a love story, and that too, a tragic one- or is it? If you haven't watched the series yet, head over to Netflix, and in case you have, here are the answers to all your questions!
The Haunting of Bly Manor Plot Synopsis
The show opens at a wedding rehearsal, with a woman (Carla Gugino) singing verses from 'O Willow Waly', a song we will hear many times in the rest of the story. An Indian gentleman stands up to give a speech about love, setting the theme for the show. In the evening, everyone huddles up by the fireplace along with the bride and groom to be, as the mysterious woman begins to tell a horror story.
In 1987 London, a young American woman, Dani Clayton (Victoria Pedretti) gets hired to serve as an au pair to the orphaned niece and nephew of Lord Henry Wingrave (Henry Thomas). Subsequently, she moves to Bly Manor and meets the two children, Miles (Benjamin Evan Ainsworth) and Flora (Amelie Bea Smith), who appear to be lovely and charming in the first meeting, but soon their disturbed-selves start showing as they try to cope with their losses.
The kids lost their parents to an accident in India. Not just them, but the kids also lost their previous governess, Rebecca (Tahirah Sharif), who supposedly committed suicide after her lover, Peter Quint (Oliver Jackson-Cohen) broke her heart. Peter also stole several hundred thousand pounds from Henry.
Apart from Dani, Bly Manor's staff also includes the cook, Owen (Rahul Kohli), housekeeper, Hannah (T'Nia Miller), and gardener, Jaime (Amelia Eve). With every progressing episode, we discover the how the past relationships of these characters still affect them in the present.
While the show's main plot revolves around the horror Dani encounters at Bly; each episode focuses on providing more and more information about the backstories and the past relationships in every character's life. We also see how these relationships influence their patterns, especially when it comes to loving themselves.
The Haunting of Bly Manor Ending
The au pair's sexuality plays a huge role in taking the storyline forward. A few years ago, after she was almost married to her childhood sweetheart, she realized that she is a lesbian. When she came out to her ex-fiance, they two had a huge fight, right before he got accidentally run over by a truck.
This explains her disturbing visions of him with glowing eyes, as a result of possible PTSD. She tries to escape her visions, but they follow her to Bly Manor as well. After some help from her lover, Jamie, she gets over the trauma and her ex-fiance's recurring visions by burning his glasses. By doing this, she finally gets some closure and releases her guilt.
The Past Of Every Character In The Haunting Of Bly Manor: Broken Relationships
It is revealed that Henry feels guilty for having an affair with his brother's wife for a long time right before their deaths. The couple went to India because Henry's brother found out that Flora is his illegitimate daughter. He gives Henry the entire office and asks him to distance himself from Flora and her brother in return. Henry punishes himself by self-loathing and alcoholism, and even imagines his alter-ego talking to him based on his brother's last conversation, who accused him of being a smirking, little monster in reality.
Even though Peter's past is not revealed much, we can still make out that his parents were swindlers, who had no problem extorting money from him by hook or by crook. We also learn that Peter's father sexually abused him as a child.
As for Hannah's character, we learn that her husband cheated on her. She deals with the heartbreak by investing her entire time in the maintenance of the Bly Manor, but she feels lost now and then, searching for a meaning in her life.
Jamie, Dani's lover, has also had a rough childhood like Peter. She grew up in foster care, alone moving homes, until she discovered her love for gardening. She has never had a responsible and caring mother and has been slut-shamed her entire life, following in the footsteps of her mother.
All of these characters have experienced a lot of sadness, especially when it comes to losing someone they were supposed to be in a loving relationship with- be it their parents, life partners, even uncles. In them, these broken relationships have left a void of some sort. Their pasts still continue to 'haunt' them, as the trauma has manifested itself in their minds, despite all the time that has passed and all the efforts they have put in.
The Lady Of The Lake
The penultimate episode of The Haunting Of Bly Manor is set in the 17th century revolving around Viola (Kate Siegel) and Perdita (Catherine Parker), the daughters of the Manor's owner.
After their father's death, Viola gets married and gives birth to her daughter, but she is soon diagnosed with terminal lung disease. She perseveres for years, through her stubbornness and rage. Viola feels angered at her helplessness and gets jealous of sister and husband for the growing bond between them.
She locks away all her jewellery and silk and decides to pass them on to her daughter when she comes of age. Eventually, Perdita gets tired of being harassed by Viola's repetitive fits of rage, and filled with malice, she kills her.
She then marries Viola's husband and opens her sister's possessed silk-and-jewellery chest, driven by both her greed and desire. As soon as she opens it, Viola strangles her to death, and turns her into a ghosts, as she joins the pack of spirits stuck within the premise of Bly Manor.
After his second wife's death, Viola's husband sells the property and leaves with his daughter, but instead of taking the chest, they dump it into a pond in the property. In the centuries that follow, she lies in the pond, and as her memories fade away, her face fades away too. The people who died because of her, or any other cause, stay stuck in the Manor forever, faceless, purposeless. 
How Did Peter And Rebecca Die?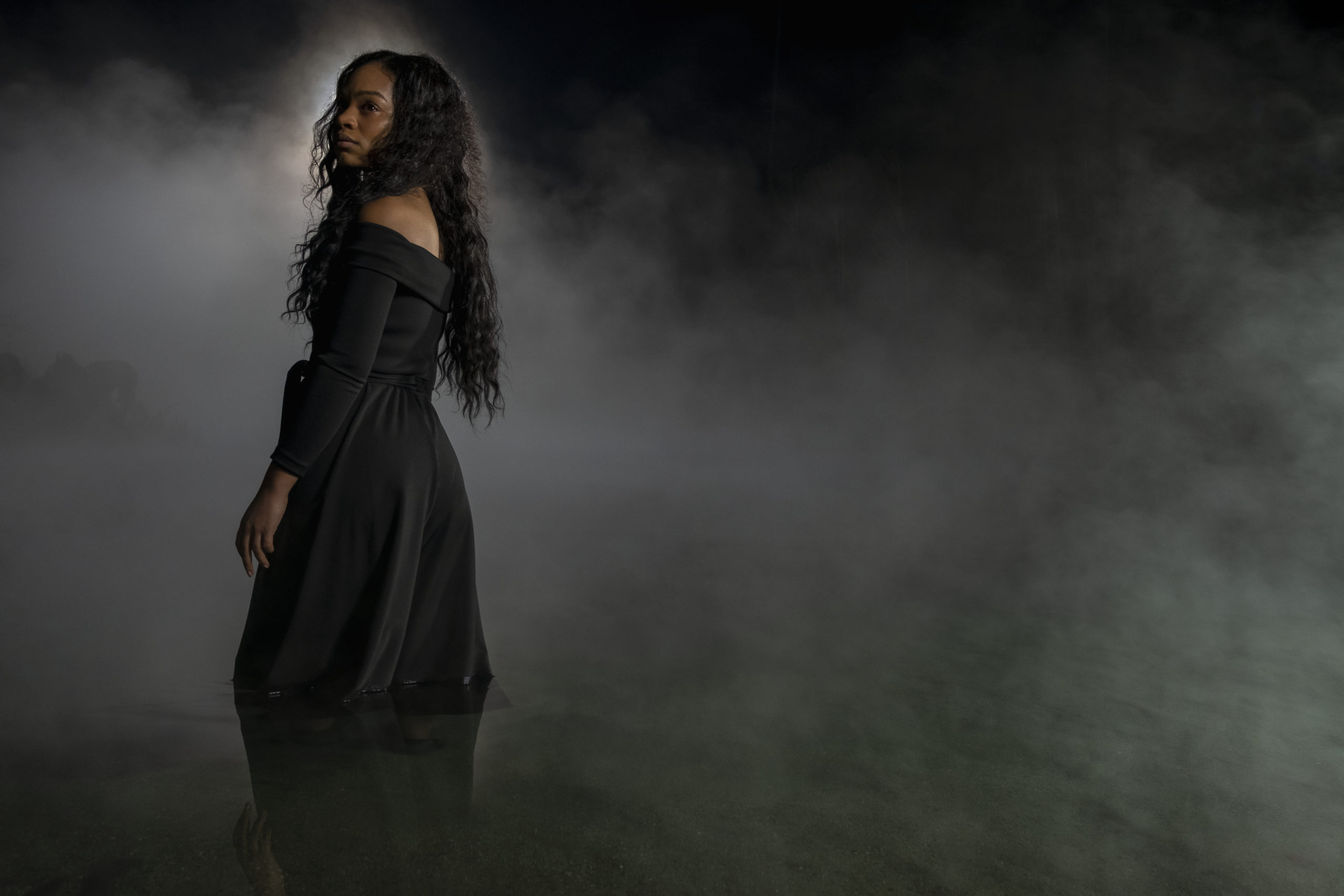 As the Haunting Of Bly Manor ends, we get to know that Viola kills Peter right before he is supposed to elope with Rebecca. Peter literally possesses Rebecca, like Hannah said, and drowns her in the pond, so that the two can be together afterwards. He also possesses Miles, who pushes Hannah down into a well, killing her, tragically before she could leave the Manor with Owen.
The two children experiment with their own form of escapism by retreating into their parents' memories, to numb down the pain of losing them. This allows Peter to exploit them and possess them permanently. Rebecca, however, ends the ritual with Flora and frees Dani as well.
How Did Dani Save Flora?
When Viola is about to kill Dani, she sees Flora, and mistakes her for her young daughter. She decides to take Flora down with her and begins walking towards the pond, nearly killing Henry in the process, who is later saved by Owen.
When Viola is about to drown Flora, Dani recites the words of possession, permitting Viola to reside in her body. Thus, all the spirits held by Viola in The Haunting Of Bly Manor are freed. Everyone leaves the Manor the next day, and in time, Miles and Flora forget everything that happened in the Bly Manor.
A Love Story: Dani Finally Returns
Dani and Jaime's relationship develop after the two leave the Manor. Jamie accepts Dani for who she is, and Dani gives her the love she secretly desired her entire life. Dani proposes to her, and since due to the laws back then, they couldn't get married technically, the two exchange matching engagement rings. Since Dani now hosts Viola's spirit, she gets haunted by her eventually, long after the two settle in the US. Inevitably, years later, Dani starts seeing Viola in her reflections, and one day almost strangles Jamie in her sleep. 
She leaves immediately, making one final sacrifice, and drowns her own spirit along with Viola's in the same pond of the infamous Manor. Jaime runs back to Bly, where she discovers Dani's body at the bottom of the pond. But since Dani's memories of love and humanity are still intact, she isn't cruel and the Bly Manor is no longer haunted. She becomes Jamie's Lady Of The Lake. 
The closing scene of The Haunting Of Bly Manor takes the audience back to the wedding. It is revealed that the mysterious woman is Jaime, the Indian middle-aged gentleman is Owen, and the bride to be is Flora. We also see Miles and Henry in the wedding reception, happy and safe. After the wedding, Jaime goes back, fills her tub and basin with water, searching for Dani's reflection. She then moves a chair, facing the door, leaving it a bit open. After all these years, she still believes that Dani will return someday.
In the closing shot, we see Jamie all huddled up on the chair, dozing off to sleep, as a hand rests on her shoulder- wearing the same gold ring as the one Dani bought. So yes, there are only two possible explanations for this. One is that Dani has finally returned, and maybe somehow, Viola's revengeful memories have been completely overpowered by Dani's memories and her love for Jamie. Maybe, Viola herself has completely faded along with time after all.
The other plausible explanation is that maybe Dani never left. Perhaps Dani's spirit always took care of Jamie without her knowing it. She probably comforted Jamie in some way or the other, all this time, like a guardian angel, silently watching over her. Either ways, the closing shot was a proof that Jamie and Dani's love for each other is eternal, and this angle of a 'love story' sets The Haunting Of Bly Manor apart from the other horror show. Everything has a meaning in this show, and everyone has a story of love. This show is undoubtedly one of the best horror shows out there, in quite a while.