Biomutant is an upcoming action role-playing game. The Swedish developer Experiment 101  developed it, and  THQ Nordic has published. The game has been hitting around in various stages for years now. In 2019, it looked extremely ambitious.  So get ready to have a tour with this gameplay. The gameplay will provide with all the vital information on this RPG category with the release date.
About: Biomutant
Biomutant is an action role-playing game produced in an open world environment. A third-person perspective will be the player in a raccoon character in a world.
Like in all other game, the first thing for the player is to customise their character. The story of the game is mission-based. And mission lines are character-based. Some features of the Biomutant are,
Biomutant's narrator narrates for every character in the game.
Here's only one voice actor in the game—the omnipresent and pleasantly British narrator. He not only narrates the constant action of your protagonist, but also voices every NPC conversation.
The custom cat's physique will affect its stats.
Players have to twitch their cat warrior's genetic code to their liking. It will include strength, agility, vitality, charisma, and intellect.
Players will discover new physical and 'Psy" abilities during Post-apocalypse.
Here your cat will tend to pick up new powers when exposed to the post-apocalypse wastelands.
Biomutant's combat plays like Devil May Cry.
Tha statement is alike because the Biomutant is expressly compared with the combat to Devil May Cry.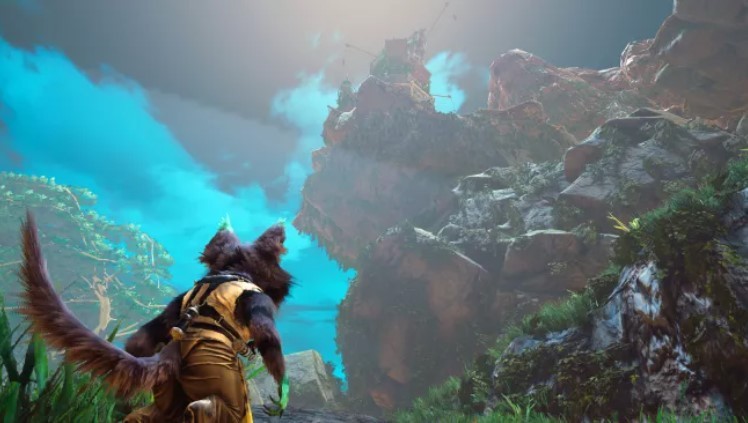 The craft weapons out of random pieces of junk are here.
Here one can find the supplies in the open world. These will be underuse to craft unique weapons. Until now, we have seen swords, staffs, rifles, and pistols.
The simple 'Karma' system is the vital ending.
Your actions will weave a simple Karma meter back and forth between good and evil. That's so much interesting. What you think, guys?
Premiere:
Biomutant was set to premiere sometime in 2019.  But now it's 2023, and THQ Nordic hasn't made any mention.
However, Developer Experiment 101,  recently updated fans on Twitter. Acoording to him, they are working harder and more focused on than ever to make it.
System Requirements :
Like everything else in Biomutant, these are also subject to change. But the minimum requirements are,
Minimum 
OS: Windows 7 or higher (64 bit)
Processor: 2.6 GHz Intel® Core™ i5-750 or 3.2 GHz AMD Phenom™ II X4 955
Memory: 4 GB RAM
Graphics: 2 GB Direct3D 11 capable video card (GeForce GTX 780 or Radeon R280)
DirectX: Version 11
Storage: 10 GB available space