Extraction released on 24th April on Netflix and has received mixed reviews so far. Some just loved the storyline while others accused it of being very twisted and violent. So, read out what happened at the end and decide for yourselves!
Extraction Backdrop And Cast
Tyler Rake (played by Chris Hemsworth) is on a mission of rescuing Jr. Ovi, the son of a drug lord, Sr. Ovi in Dhaka, Bangladesh. But, this mission doesn't go as per the plan.
Have a look at the interesting trailer of Extraction released on the 7th of April.
To understand the story better, take a look at the main cast and characters of the movie below-
Chris Hemsworth as Tyler Rake
Rudraksh Jaiswal as Jr. Ovi (Kidnapped boy)
Randeep Hooda as Saju (Sr. Ovi's henchman)
Pankaj Tripathi as Sr. Ovi Mahajan (a drug lord)
Golshifteh Farahani as Nik (as Rake's partner)
David Harbour as Gasper (Tyler's ex-teammate and old friend in Dhaka)
Priyanshu Painyulli as Amir Asif (Ovi's kidnapper)
The Ending Of Extraction
Saju (Randeep Hodda) with his squad attacks Tyler and Ovi. To save his family from losing their lives and avoid paying the ransom money, Saju must save Ovi. Saju and Ovi somehow escape and come across Farhad, who wanted to prove himself in front of Amir Asif. Rake fights him and his companions but doesn't kill them.
Later, Gasper picks up Tyler and Ovi and takes them to his house. Gasper then tells Rake to let him kill Ovi as there is a 10 million dollar reward for his death. Gasper was about to stab Rake as an attempt to get the prize money but Ovi shoots Gasper. Now, Tyler asks for Saju's help to get out of Dhaka and ends up getting against the police force and army.
TYLER'S DEATH
Towards the end of the movie Extraction, Tyler decides to distract his enemies towards him so that Saju can rescue Ovi. But, a sniper shoots Tyler and the shooters take Saju out.
Tyler managed to survive and keep shooting the men by the time Ovi gets on a helicopter to escape from that place. But, just before Tyler reaches the helicopter Farhad shoots him and he dies.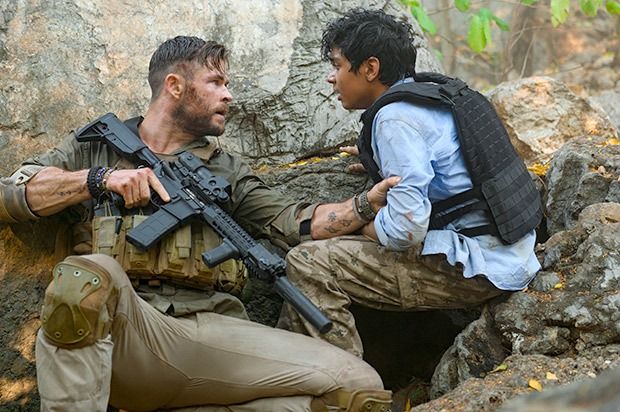 OVI'S LIFE AFTER EIGHT MONTHS
Eight months later, Tyler Rake's partner Nik shoots Amir Asif (Ovi's kidnapper and Sr. Ovi's opponent) when he finds him lying in the washroom. Ovi is seen swimming in a pool. When he comes out and turns behind, he sees someone looking at him from a distance. That person, however, is hiding.
This could be Tyler Rake. Is he alive? Is it someone else? The final scene of Extraction leaves us with some big questions and somehow, a positive and hopeful perspective.