Julie and the Phantoms is the American adaptation of the 2011 Brazilian teenage musical "Julie e Os Fantasmas." The latest addition to the Netflix catalog is this light-hearted musical.  The exciting part for all the lovers of this genre is the creators.
This series comes from the makers of High School Musical, which of the same tone. Firstly, if you're a person who's grown up in the 2000s, you know what the buzz is all about. Secondly, Julie and the Phantoms' genre has a definitive audience which isn't concentrated.  The global community will surely stick to this.
Meanwhile, the success of the original Brazilian show also guarantees something. This new show will surely be a decent success, if not a blockbuster. Moreover, the creators will try to distance themselves with the usual. We all know about the fact remains that it will be covered in cliched moments.
The challenge for Netflix would be to translate the magic from Latin America to the US. Portuguese is the base language and would be a cultural barrier.
Although, The American makers have made sure to rope-in a talented cast. Attractive and Talented actors are a necessity to float to the top in the ocean of content. We will not be short for eye-candy, and that's a certainty.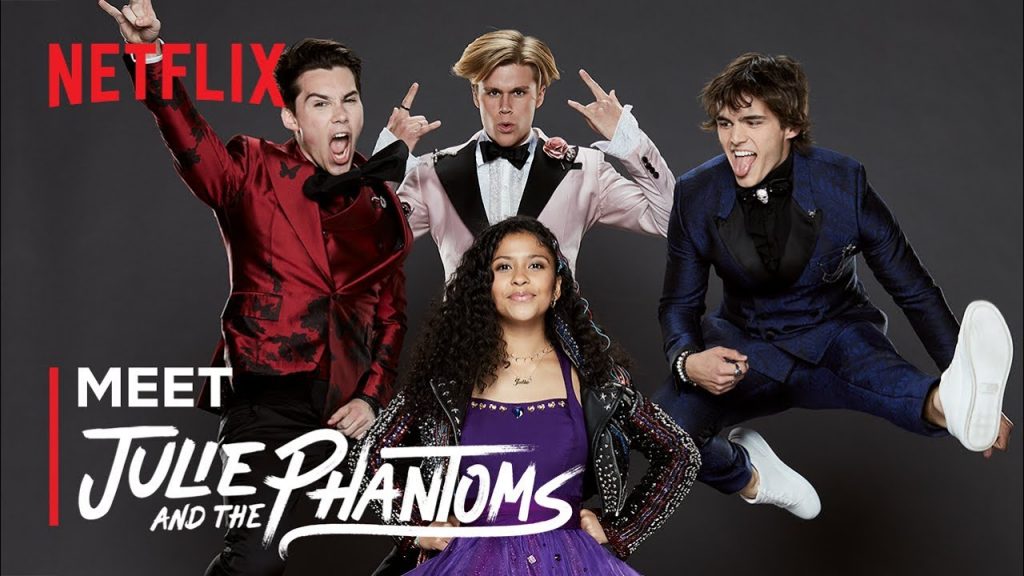 The Face and Brains behind "Julie and the Phantoms"
As mentioned above, the show will be a Netflix Original. The creative show-runner, Kenny Ortega, will be the man behind the series. His artistic vision for HSM has proven to be a classic. And Netflix is willing to take a shot at a generation-defining movie creator.
Meanwhile, cast for the contemporary musical will include Charles Gillespie, Jadah Marie, Savannah Lee May, Marci T. House, Victoria Caro, and many more.
While Kenny Ortega will keep leading the creative writing for the show, The direction will not be his primary concern. The series will be directed in parts by three directors.
Kabir Akhtar, Paul Becker, and Kristin Hanggi will be on the director's chair for two episodes. Each we believe the reliable reports.
So when does the teen musical debut?
There has been an official confirmation on the release of the inaugural season. Julie and the Phantoms will be streaming on Netflix on September 10th, 2022 and onwards.
So in the world of stay-at-home orders, grab some popcorn and be ready for a fantasy land with teenage musical romantic drama! 
Check out more Articles:-
Peaky Blinders Season 6: Check Who is Going To return With Tommy!