Love Island USA Season 2 was all set to blow our minds on the 21st of May, 2022. But, a shocking disappointment came our way when it was nowhere to be seen on CBS. Surprisingly, neither the channel nor their website has given any explanation for the same. Here's why this happened.
It is quite unusual that such a popular show didn't air without any prior notice. The makers have still not justified anything. Some of the fans are blaming it on COVID-19, and some of them just can't accept the disappointment.
What happened to Love Island USA Season 2?
Well, that is still unclear because the makers haven't given any official statement. But, the best guess can be what the majority of fans are thinking. The production might have been put on hold due to coronavirus pandemic.
Meanwhile, Matthew Hoffman has tweeted something about the second season on the same day. Matthew is the narrator and co-writer of the show. His Tweet suggests that he is disappointed too.
He wrote that Love Island USA Season 2 would have launched that night. Also, he added that he couldn't wait for the show to begin and celebrate love with the audience.
Here's what he tweeted.
Tonight would have been the launch of @loveislandusa Season 2. I cannot wait to return to that padded, windowless room, and celebrate love with you all soon! In the meantime, Season 1 is available for your binging pleasure on @cbsallaccess ! Stay safe friends and see you soon❤️? pic.twitter.com/qKMx5BjRu4

— Matthew Hoffman (@MATTHEWHOFFMAN1) May 22, 2022
When will it release?
Since there has been no official announcement from the makers, we can just give it a guess. Some sources suggest that we can expect Love Island USA Season 2 this summer.
However, it can get a bit more delayed looking at the current situation. But, speculations say that it will come out before the end of this year positively.
What is the show all about?
Love Island USA is a dating reality show based on the British series Love Island. The contestants live in isolation in a villa in Fiji.
They are constantly under video surveillance. Furthermore, each contestant has to team up with an "Islander" in whatever form they prefer. It could be love, friendship, or even money.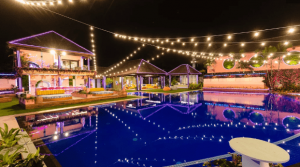 Any Islander who remains single after the formation of couples is eliminated. Also, the least voted couples are also under the radar of elimination. The winning couple gets the prize money of $100,000.
Interesting concept, isn't it? So, let's re-watch the first season till the makers give out a release date for Love Island USA Season 2. Stay tuned for all the latest updates related to the show.