Francesca Farago is the contestant of the very famous show which is called as Too Hot To Handle. Too Hot To Handle is the latest reality TV dating series on Netflix. It is an exciting show in which some girls and boys are left together on the resort of the island. They are given with some tasks that they have to perform. There is prize money thereof $100,000.
There is a glitch, all the task are so hot, but they are not allowed to do any sexual activities. They are not allowed to sex or not, even just a kiss. If they break the rule, then they will lose some money from the prize money.
This show is also compared with the top-rated series Love Is Blind.
Who is Francesca Farago?
Well, Francesca Farago is a Canadian Instagram travel influencer. A 25 years old girl Francesca has many exciting stories.
She joined the group of single people on the island for the show Too Hot To Handle. She is the eye-catcher of the show from the beginning. But here also she made many things which makes so much of controversy.
There is a rule in the show that stands for no sex and no kiss on the show. And she made a kiss with Harry, which deduct $3000 from the prize money. But this is not the end, and she did kiss to Haley on the show which also deducted $3000 again.
In the past of Francesca Farago had a relationship with DJ and musician Diplo. And she also said that she had the name of her ex-boyfriend tattooed in her mouth.
Francesca Farago Instagram Post! (Too Hot)
While quarantine everyone is busy in building their skills, Francesca is focusing on the audience of her. She gives many hot poses on her Instagram posts. Although she is sharing her nature by different posts, here we can say a few things from her Instagram post.
She is vegan
Well, she had shared many pics related to her diet that shows that she is vegan.
She owns a brand call Label
Well, on Instagram we can see many things which she used to do. She also promotes her brand on Instagram via many posts and stories. here is the one post from her brand-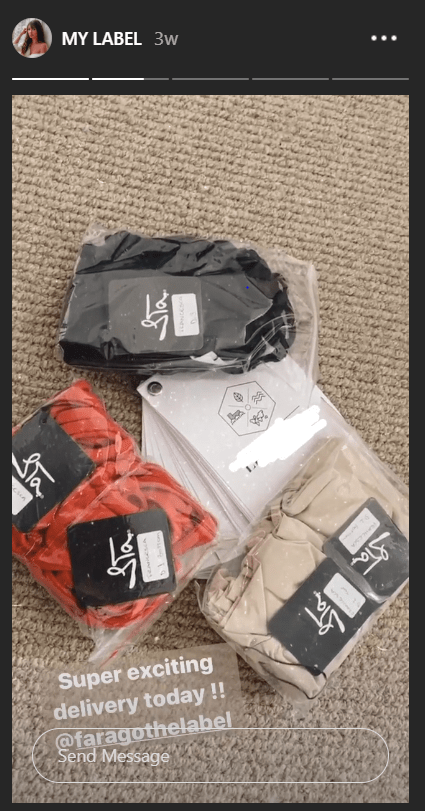 she love to stay 
She stated that: "My personality is my best asset, but the eyes go to the b**bs. But I don't think my face is too bad. Usually, if a guy is hot and I want him, I do a little hair flip, a little eye contact, and then it's game over."
So this is it about her. You can also check her Instagram from the posts we uploaded of her. stay tuned for more.
Also read, Gilmore Girls A Year In The Life Season 2: Are They Return To Rock You?