'#Alive' stands out as one of the best films for the on-going COVID-19 era. Director Cho Il-Hyung's latest masterpiece bears an uncanny resemblance to the current condition of the world, evoking an eerie sense of Deja-Vu all throughout the movie. With Yoo Ah-in and Park Shin-Hye playing lead roles, '#Alive' narrates a touching story of loneliness set against the backdrop of a zombie apocalypse. Watch '#Alive' on Netflix now.
#Alive: Plot Synopsis
Our protagonist, Joon-Woo awakens one day to a world brought to its knees by a deadly virus. The virus has turned people into shrieking, flesh-eating zombies, working its way through the masses. Joon-Woo's apartment complex turns into a complete hotspot. With zombies roaming around looking for fresh meat, our lonely protagonist has no choice but to distance himself from the rest of the world and self-quarantine. 
Joon-Woo secures his apartment from zombies by moving a refrigerator in front of his door, boarding up his windows, and strictly staying indoors. Food and water begin to run low, network signals weaken. Despite a weak internet connection, Joon-Woo succeeds in posting a cry for help on social media. He also manages to get across to his family, but is greeted by sounds of them being eaten alive by zombies. Joon-Woo slips into depression after this and loses all hope. 
Despondent and lonely, he decides to commit suicide, but then he spots another survivor at the last moment. A laser light shines on his face. In the flat directly opposite his, stands a girl, Yoo-bin, watching him keenly. Abandoning all thoughts of suicide, Joon-Woo makes his way out of the window to make her his acquaintance. Given their circumstances, the two develop a friendship real soon. 
We discover that Yoo-Bin has survived pretty much the same way that he has: by barricading doors and using makeshift weapons. Unable to flee the confines of their apartments, the two find smart ways to bridge the zombie-filled gap separating them. They interact using walkie-talkies and trade supplies through a zip line while successfully keeping the bloodthirsty zombies at bay. They begin making an escape plan to leave their desolate apartments and meet in a supposedly abandoned floor in Joon-Woo's apartment complex. 
#Alive: Ending Explained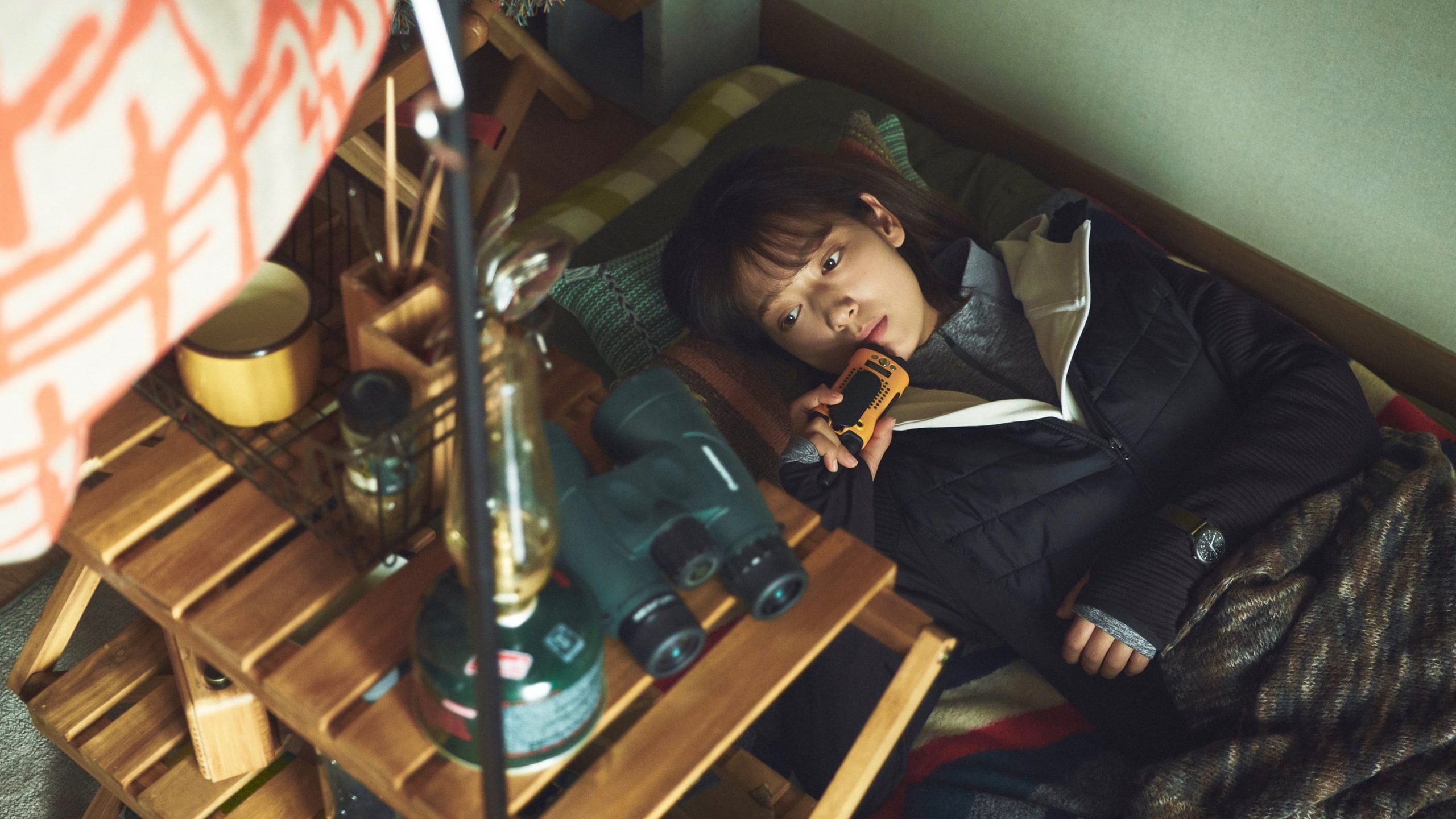 '#Alive' begins with a slow climb in the first half and transcends a terrifying slope in the second. Their plan gets off to a great start, at least initially. Yoo-Bin makes her way over to Joon-Woo's building, but when they get to the deserted floor, they realize it's not as vacant as may seem. Zombies are lurking in every corner, desperately looking for their next meal.
They get rescued by a middle-aged man named Lee Sang-Chul who saves them by using smoke bombs. He lets the survivors into his apartment and deceives the zombies. He wins over their trust by assuring them that a rescue team will soon come looking for survivors. In a plot twist, Lee Sang-Chul drugs the two and throws Yoo-Bin inside a locked room to feed his zombie-turned wife. Joon-Woo manages to save Yoo-Bin, but the zombie wife latches on to her husband, right before Yoo-Bin shoots both of them dead. 
The sight of the mangled couple strikes Yoo-Bin and Joon-Woo. Yoo-Bin thrusts the gun into Joon-woo's hands, but the miraculous sound of a whirling helicopter stops Joon-woo from pulling the trigger. With a newly found hope, the two heroically make their way across the terrace, as an army of zombies follows them. The rescue team arrives just in time, and the duo is rescued safely. 
What happens to Yoo-Bin and Joon-Woo in the end of #Alive ?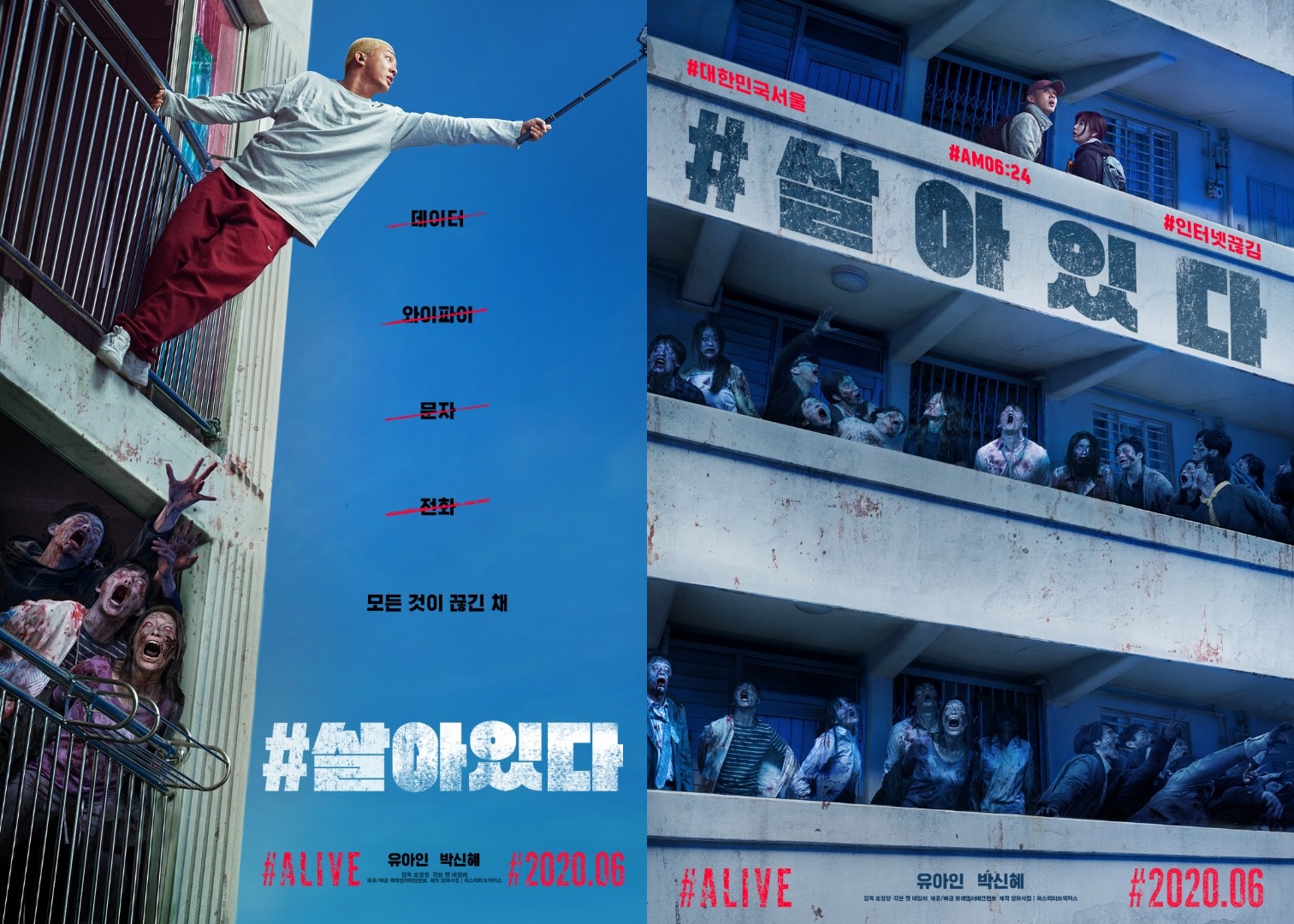 Overwhelming loneliness & hopelessness is a recurring theme in the movie. A sense of sudden isolation and detachment moves all the characters in the film. Joon-Woo forces himself to commit suicide when he learns that the zombies may have mauled his family apart. Yoo-Bin finds comfort in Joon-Woo's company.
Lee Sang-Chul tries to relieve his loneliness by not letting go of his wife after she turns into a zombie as he develops attachments to her distorted version. When Yoo-Bin and Joon-Woo find each other, they bond based on their traumatizing experiences. Together, they overcome the seemingly impossible hurdle. 
#Alive: A Final Note
'#Alive' makes itself stand out as it is a movie that ultimately celebrates the triumph of unity & humanity. When they were apart, Yoo-Bin and Joon-Won felt pessimistic and helpless. Together, they defeat a swarm of zombies and survive.
As they ride over the city in the rescue team's helicopter, they hear the broadcast of several people being saved. By the use of social media, the rescue operators have managed to track down and rescue several survivors- and now Joon-Woo is one of them. The movie patronizes human solidarity and the amount of hardships it can endure and overcome.