Lifetime Movie Network is ready to add another suspense thriller movie, Engaged to a Psycho, to the list of its line-up. The project originally filmed under the title of 'Murder at the Mansion.'
Engaged to a Psycho – Storyline
A to-be-bride becomes suspicious of her fiancé's family while they plan their wedding at his remote countryside.
Deanna and her fiancé Karl travel to his family estate, where they plan for their marriage. But there is someone who has the intention to stop this marriage, and the way chosen is the murder of the bride.
The bride's dream of a perfect wedding gets shattered, and all that she desires is to stay alive and save herself.
The Cast:
Lanie McAuley:
An actress as well as singer based in Nashville, Tennessee. Her career took flight at a very early age of one when she shot her first commercial for Mattel. She appeared in nearly 90 commercials as a juvenile teen.
She has shown her outstanding talent in Bad Date Chronicles, Lost After Dark, How It Ends, Center Stage: On Pointe, etc.
Appears as Nicole in Engaged to a Psycho.
Anna Hutchison:
Anna Hutchison is a New Zealand based actress. Her career began on the New Zealand soap opera Shortland Street as Delphi Greenlaw.
She has been a star in American series Power Rangers Jungle Fury and Australian television series Underbelly: A Tale of Two Cities.
She has also played a significant role in Go Girls, The Cabin in the Woods, Spartacus, etc.
Appears as Deanna in Engaged to a Psycho.
Audrey Landers:
Audrey Landers is an American singer and actress. She is well known for her role in the television series Dallas where she has played Afton Cooper and as Val Clarke in the film version of A Chorus Line.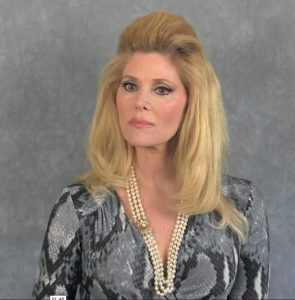 She has played roles in many movies and shows like The Huggabug Club, Ghost Writer, Love at Sea, Circus Island, The Secret Storm, and many more.
Some of her albums include: Secrets, Rendez Vous, You Came to Me on Christmas, etc.
Appears as Ivy in Engaged to a Psycho.
Jason-Shane Scott:
Jason-Shane Scott is an American actor born in Southern California.
He appeared in films like Shrieker, A Turn in the Tree, Until Death, and Caught.
He received two Soap Opera Digest Award nominations for his portrayal as Will Rappaport in One Life to Live.
Some of his other works include: Wolves of Wall Street, Latter Days, Starship Troopers 2: Hero of the Federation.
Appears as Karl in Engaged to a Psycho.
Read Also: The Marvelous Mrs. Maisel: Renewed Or Cancelled?
Engaged to a Psycho – Filming Locations
The filming for Engaged to a Psycho kicked off in the second week of June 2018. This is evident from the Facebook post on the official page.
Engaged to a Psycho has various locations throughout the scenes. It is filmed in Louisville, Kentucky. The shooting is done in a local mansion there.
Kentucky is not so famous when it comes to choosing filming locations. However, the Bluegrass has witnessed a roar when it comes to film business. Also, tax impetuses make it an incredibly soothing spot.
On the set of "Murder at the Mansion" https://t.co/qq88MAdyBj filming in NE Louisville. ⁦@wave3news⁩ pic.twitter.com/4PfEmWeqDp

— James Thomas (@jbtcardfan) June 25, 2018